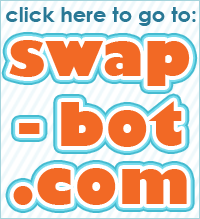 while reading through comments and posts for my online art class, someone mentioned swap-bot. I had never heard of swap-bot, so I looked it up on google and found a whole new community of fun arty people and ideas!
The "bot" is an automated system that randomly assigns partners for a "swap" set up by various moderators throughout the world. Swaps are quick and inexpensive (
Favorite Candy Bar
) or elaborate and expensive (
Disney Scavenger Hunt
) with specific themes and requirements. Some swaps allow the participants to share handcrafted items while others are designed to clean out stashes of art supplies. One trait is common among many of the swaps - participants must be "rated" in order to participate. It's sort of the catch-22 of looking for work right out of college where no one will hire someone without experience, but how do you get experience without first being hired? Since you must participate in swaps to be rated (the partner you send to gives a rating after receiving their packages to show that you completed the swap in a timely manner and according to the directions of the swap), there are some swaps aimed specifically at "newbies" to try out the swapping system and get ratings in order to join some of the more fun and serious swaps.
I decided to join one of these "newbie" swaps in order to see if I have time to participate in something like this between caring for sweet Leila, keeping the house somewhat clean (ha) and completing projects for art class. The requirement of the swap was to send one item of each color - red, blue, yellow, green and black - and also one "surprise" item based on what my partners shared in their user profiles. I was floored by the detail that some people gave in their profiles to share their interests, likes and dislikes, but I guess if you want to like what you receive in the mail, you need to be specific.
I sent one of my partners the five colors of embroidery floss and also two fat quarters of fabric in designs I hope she likes! My other partner had specifics in her profile that were unusual, but fun to strive for. She collects bottle caps of unusual beverages so I took a trip to
Rocket Fizz
(my new favorite place, more about that later!) and picked out sodas based purely on the color of their bottle caps. As I enjoyed the sodas, I saved the caps to send to my partner. She also indicated that she loves kitchen accessories such as hand towels and aprons, so I was excited about the opportunity to embroider a towel for her. Here are pictures of the finished product:
The pattern is from
Sublime Stitching
, one of my favorite places to find patterns. The picture on the left shows a cupcake with two battered spoons crossed underneath. I thought it looks like the skull and crossbones of pirates :) On the right is a clumsy waitress spilling cups and bowls off of her tray.
It was fun to participate in this swap and send off packages and also receive things (I got some great stickers, stamps and also a really pretty bracelet!) but since I have so little free time to myself these days, I don't think I'll be joining too many more swaps right now. Though I did sign up for the candy swap! I couldn't resist :)